Details
Archive reason
More information required
Available for excursions
No
Construction
Builder
Weatherhead, William & Son, Cockenzie
Primary engine type
Diesel
History
History
VERONICA was built as a seine net or ring net fishing boat in 1932 by William Weatherhead of Cockenzie. Her two sister ships were LOTHIAN QUEEN and MARGARETTA. Her hull is carvel built with pitch pine planking on oak frames, fastened with iron nails. She has a typical pointed stern and a pointed bow with a raked curved stem.
She was commissioned by the Sloan Brothers of Maidens in Ayrshire to fish both the east and west coasts of Scotland. The brothers were Thomas (born in 1892), James (born in 1894), John (born in 1886) and William (born in 1888). Their father and brother Matthew were drowned in 1902 in the loss of MAIDEN'S LASS.
On 8 December 1949, VERONICA was bought by John Marshalls Donaldson of 9 Elcho Place, Port Seton, East Lothian and re-registered as LH45.
She remained at Port Seton until May 1975, when she was sold to Donald Peacock. At this time, she was converted by the firm Weatherheads, which was run by the nephew of her original builder. The work included new oak beams and an iroko deck, a pitch pine coach roof, a new pitch pine wheelhouse, new bulwarks, new spruce masts and various planking repairs. Before completion, Weatherheads went into receivership after one hundred and fifty years of boatbuilding. As a result, VERONICA was not finally ready until May 1977, when she was transferred to Glasson Dock.
During July and August 1977, the engine and gearbox were entirely removed along with the propeller and shaft. Twenty per cent of her planking was renewed and refastened, raked and caulked.
In January 1979, the engine was altered to an electric start, then rebuilt and refitted on new bearings. She also had a new cast iron ballast keel in October 1979.
In 1994, VERONICA was sold for use as a houseboat, based in Ocean Village Marina, Southampton. More repairs were carried out including; the starboard coaming, carling and covering board of the saloon; both the starboard and portside coaming and covering board on the aft cabin, and the starboard side rubbing strake and boards under the bulwarks. She is rigged with a loose footed gaff main and a Bermudan mizzen. The engine is the original inboard Gardner 5L3 diesel, with five cylinders, 15 litres and 88 horsepower, from 1932.
Key dates
1932

Built for Sloan Brothers of Maidens in Ayrshire by William Weatherhead of Cockenzie

1949

Bought by John Marshalls Donaldson of Port Seton and re-registered as LH45

1975

Bought by Donald Peacock from home port of Port Seton

1977

Extensive repairs completed and transferred to Glasson Dock without engine, gearbox, propellor or shaft

1979

Engine converted to electric start, rebuilt and refitted. New cast iron ballast keel fitted

1994

Sold to David and Janet Kennedy as liveaboard from Ocean Village Marina, Southampton

1998

Purchased by Ray Howlett and sailed from Ardrossan to Falmouth

2003

Bought by present owners and transferred to Isle of Wight

2007

Engine overhauled

2015

Gearbox rebuilt
More like this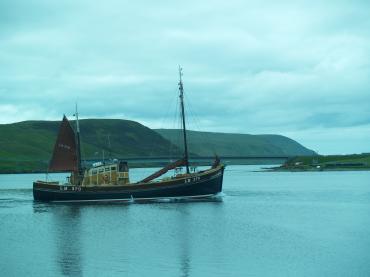 Registered, built 1960 by Herd & MacKenzie, Buckie
Registered, built 1947 by Weatherhead, James, Eyemouth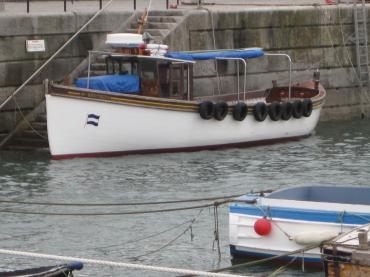 Registered, built 1935 by Laird, James, Bangor, Co. Down