Details
Available for excursions
No
Construction
Builder
Stephen, W & G Boatbuilder, Banff
Primary engine type
Inboard
History
History
RESEARCH is the sole surviving large zulu, a first class herring drifter of the type once numerous along the shores of the Moray Firth. She was built as Heather Bell (BF 1206) in 1903 by W & G Stephen, of Banff, for three co-owners – the fishermen George Paterson, William Lyall and Andrew Lyall, all of Macduff in the County of Banff. She had a 62ft keel but the long raking stern gave her an overall length of 78ft. The new boat was registered on 6 May 1903 and her first skipper was Alexander Paterson. Equipped with a steam capstan for hauling the drift nets, Heather Bell fished under sail for herring in the summers until April 1912, when the Banff registration was closed and her new owners (William and John Ritchie, of Rosehearty) registered her at Fraserburgh (FR 498). A 30hp auxiliary Kelvin engine was installed but later the sails were discarded when a second 30 hp Kelvin was added. In the early 1920s these engines were replaced by twin 60hp Kelvins, which powered her for over forty years.
After several changes of ownership at Fraserburgh she went north to Shetland in 1935, having been bought by a crew from the island of Whalsay, and was renamed RESEARCH (LK 62) after the crew's previous vessel. She continued to fish successfully until the Second World War, when she was requisitioned by the Admiralty to carry supplies around the Shetlands, and also saw service at Scapa Flow, Orkney. In 1945 RESEARCH resumed her fishing career under skipper Robert Polson, and in the following year was fitted with a seine net winch which allowed her to take part in the new winter fishery which had developed off Shetland during the war years. In 1955 her younger crew members left for a new vessel and RESEARCH was laid up in the subsequent winters but continued to fish for herring in the summers. Remarkably she remained a very successful boat, and in the late 1950s recorded her biggest catch of 211 cran. In 1968, by which time her skipper Robert Polson was over 70 years old, she completed her last season and was laid up.
In 1979 the Scottish Fisheries Museum mounted a rescue operation and towed the boat back to Anstruther with the intention of restoration back to her original appearance. However she sank shortly afterwards and after being raised was refitted at Miller's boatyard in St Monans in 1984 at a cost of £24,000, with a new keel, some new planks and the internal doubling of some frames. She went down again in the winter storms of 1995-96 and lay under water for three months. With the help of a £35,800 Heritage Lottery Fund grant she was lifted into a steel cradle at Anstruther and a project to display her in a new gallery, with other smaller craft, was embarked upon. In addition to local fundraising the project benefitted from a further grant of £664,000 from the Heritage Lottery Fund in 1997/98. The new gallery opened in April 2000 and RESEARCH is displayed as a bare undecked and unrigged hull.
Source: Historic Sail, Britain's surviving working craft, Paul Brown, the History Press.
Sources
Classic Boat: The Mighty Zulu, pp66-70, January 1997
Walker, Alistair, The Fleet: a guide to the historic vessels at the Scottish Fisheries Museum, St Ayles Press, 2002
Newland, K, The Zulu herring drifter: case study of historic vessel preservation at the Scottish Fisheries Museum, 1998
Dewar, Rosemary, East Fife Mail: Wreck or Relic?, pp26-7, March 1997
St Andrews Citizen: Lightship may not be only vessel bound for new home, 18 August 1995
Key dates
1903

Built by W. & G Stephen of Banff on the Moray Firth and named HEATHER BELL

1903-33

Fished out of Fraserburgh

1930s

After earlier experimentation with a Kelvin auxiliary power unit she was fitted with twin 60hp engines

1933

Sold to a Shetland firm and renamed RESEARCH

1933-68

Fished out of Whalsay in Shetland

1939-45

Admiralty service in Shetland and Scapa Flow

1968

Laid up and her condition began to deteriorate

1979

The Scottish Fisheries Museum mounted a rescue operation and towed the boat back to Anstruther

1984

Fitted with a new keel at Miller's Boatyard in St Monans

1979-97

Laid up in Anstruther harbour

1995-96

Sank in winter storms and lay under water for 3 months before being lifted into a steel cradle

1999

Transported to the Scottish Fisheries Museum's new purpose-built gallery

2000

Zulu Gallery opened by Deputy Minister for Culture and Sport

2010

A laser survey of the hull was conducted by Headland Archaeology
Grants
1997/98

The Heritage Lottery Fund awarded £664,000 for acquisition of premises

1996/97

The Heritage Lottery Fund awarded £35,800 for purpose built building
More like this
Registered, built 1904 by Hay & Co Ltd, Lerwick
Registered, built 1937 by Macduff Engineering, Macduff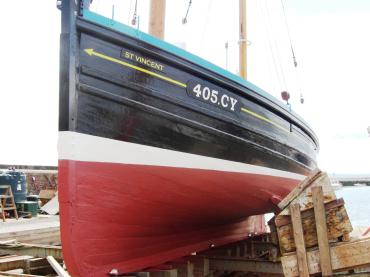 Registered, built 1910 by Stephen, W & G Boatbuilder, Banff