Previous names
Umtali
Black Arrow II
Kalu-Kiki
Lorien
a12admin
Details
Vessel type
Standard 35 ft Sailing & Pulling Class L
Current use
Ongoing conservation
Available for excursions
No
Construction
Builder
Thames Ironworks and Shipbuilding Company, Blackwall
History
The JANET HOYLE (ON 604) is an early example of the Liverpool class of a Sailing and Pulling lifeboat. Built in 1909, she was stationed at Ayr from 1910 until 1932 when the station closed. She was sold out of service in 1933 .
The Walton & Frinton lifeboat was launched on 9 July 2009 to assist the historic lifeboat which had sent a Mayday call reporting they were leaking badly near the entrance to the River Crouch. A tow was attached and pumping was required all the way to Brightlingsea where JANET HOYLE was beached.
The Thames Ironworks Heritage Trust acquired the vessel in June 2013 for restoration.
We are lacking information on this particular vessel. If you have any information on this vessel, past or present, please contact us.
More like this
Registered, built 1906 by Thames Ironworks and Shipbuilding Company, Blackwall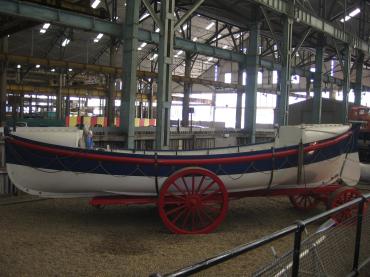 Registered, built 1909 by Thames Ironworks and Shipbuilding Company, Blackwall
Registered, built 1911 by Thames Ironworks and Shipbuilding Company, Blackwall