Previous names
1930

-

1964

Calshot

1964

-

1984

Galway Bay
Status
National Historic Fleet
Details
Current use
Ongoing conservation
Available for excursions
No
Web address
www.tugtendercalshot.co.uk
Construction
Builder
Thornycroft, J I & Co Ltd, Woolston, Southampton
Primary engine type
Inboard diesel
History
The port of Southampton had a requirement for tug/tenders to attend to liners anchored in Cowes Roads, and CALSHOT was completed in 1930 to fulfil this role in the fleet of the Southampton, Isle of Wight & South of England Royal Mail Steam Packet Company (or Red Funnel as it became known).
She was built by John I. Thornycroft & Co. Ltd, of Woolston, Southampton, launched on 4 November 1929, and fitted with triple-expansion steam engines, which were also built by Thornycroft. Principally used for local towing and tender duties, CALSHOT also served as a relief vessel on the Southampton to Ryde excursion service, and, on occasions, for salvage work in the Channel.
On 16 December 1940, she was requisitioned by the Admiralty and sent to Scapa Flow to tender the Home Fleet at anchorage. Two years later, she went to the Clyde tendering the QUEEN MARY and QUEEN ELIZABETH, amongst other liners, who were both on trooping duties.
In May 1944, she returned to the South coast and her home port of Southampton where she took part in the D-Day preparations. After an extensive refit, CALSHOT rejoined the Red Funnel fleet in June 1946 and continued in service until 1964, when replaced by a new motor tug/tender of the same name.
She was sold to Port & Liner Services (Ireland) Ltd, a subsidiary of the Holland America Line, converted to diesel and renamed GALWAY BAY. She was based at Galway for tender work to the liners MAASDAM and RYNDAM, and local excursion services.
By 1971, she was owned by Galway Ferries Ltd and used as a ferry between Galway and the Aran Islands, as well as excursions, until the end of the 1985 season. In 1986, she was bought by Southampton City Council to be the centrepiece of a proposed maritime museum. This scheme did not proceed, and she remained in Southampton Docks.
In 1997, the Tug Tender CALSHOT Trust was set up with the aim of restoring CALSHOT to her 1930s profile, including heightening her funnel. Limited work has been undertaken, but further progress is contingent on successful applicatoin for grants. Source: Paul Brown, Historic Ships The Survivors (Amberley, 2010), updated Mar 2011.
Sources
Norman J Brouwer, International Register of Historic Ships (Edition 2, 1993) pub: Anthony Nelson
W Paul Clegg, Ships Monthly (September, 1986, pp24-28) Tug Tenders in the UK
Classic Boat (Feb, 2004) Scrap threat for Calshot
Transport Digest (Summer Edition 103, 2011) Calshot Connections

Key dates
1929

Built Southampton as a tug/tender

1929 – 1940

Principally used for local towing and tender duties, CALSHOT also served as a relief vessel on the Southampton to Ryde excursion service, and, on occasions, for salvage work in the Channel

1940

Requisitioned by the Admiralty and sent to Scapa Flow to tender the Home Fleet at anchorage

1942

Went to the Clyde tendering the QUEEN MARY and QUEEN ELIZABETH, amongst other liners, who were both on trooping duties

2011

April 2011 Calshot has moved to its new home in Trafalgar Dock, Southampton, to become the centre-piece for the planned Aeronautica Museum

1944

Returned to the South coast and her home port of Southampton where she took part in the D-Day preparations

1946

After an extensive refit, rejoined the Red Funnel fleet

1946-1964

Served with the Red Funnel Fleet

1964

Replaced by a new motor tug/tender of the same name Sold to Port & Liner Services (Ireland) Ltd, converted to diesel and renamed GALWAY BAY

1964-1971

Based at Galway for tender work to the liners MAASDAM and RYNDAM and local excursion services

1971

Sold to Galway Ferries Ltd and used as a ferry between Galway and the Aran Islands, as well as excursions, until the end of the 1985 season

1986

Bought by Southampton City Council to be the centerpiece of a proposed maritime museum This scheme did not proceed, and she remained in Southampton Docks

1977

The Tug Tender Calshot Trust was set up with the aim of restoring CALSHOT to her 1930s profile, including heightening her funnel
Grants
April 2007 - March 2007

A Sustainability Grant of £1000 for help with the restoration work was made from the Strategic Development Fund of National Historic Ships

October 2010

A grant of £40,000 has been secured from the City of Sunderland S.I.P (Single Innovation Plan) for renovations. Source: current owners

2006/07

The Heritage Lottery Fund awarded £50,000 for developing the main application for restoration, conservation and development
More like this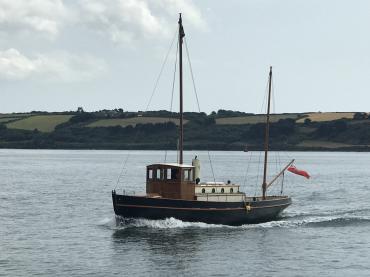 Tender built 1956 by Curtis & Pape, Looe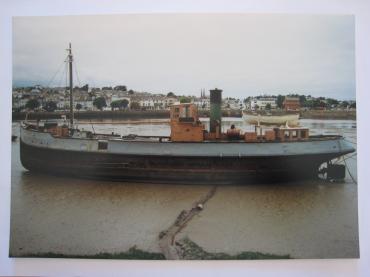 Tender built 1934 by Dunston, Richard, Thorne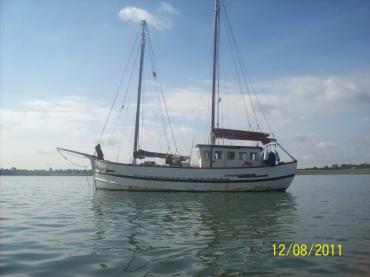 Tender built 1952 by Weatherhead, William & Son, Cockenzie