Previous names
1930

-

1964

Calshot

1964

-

1984

Galway Bay
Status
National Historic Fleet
a12admin
Details
Current use
Ongoing conservation
Available for excursions
No
Construction
Builder
Thornycroft, J I & Co Ltd, Woolston, Southampton
Primary engine type
Inboard diesel
History
Significance
Statement of Significance CALSHOT
1. What is the vessel's ability to demonstrate history in her physical fabric?
Evidence for designs, functions, techniques, processes, styles, customs and habits or uses and associations in relation to events and people. How early, intact or rare these features are may impact on significance.
At build, Calshot was fitted with twin screw, triple expansion reciprocating steam engines which were replaced with Dutch twin diesels in 1964. As a result of the conversion, her distinctive funnel was considerably shortened. It was restored to its original height of 30 feet in 2008. Much of her classic interior remains including oak and mahogany companionways, the officers' quarters with fitted furniture, the dining area with specially designed swivel seats, bespoke dining tables and original light fittings. Her first class passenger saloon with upholstered banquette seats and the bar are virtually as built and reflect the style of the 1930s period. At the end of the Second World War, Calshot was reconditioned and extra crew cabins were built in the second class accommodation area, signalling the demise of the class division. Her black and cream paintwork depicts the Red Funnel colours of her working life. A Scotch boiler built in 1928, which was used for ballast on Calshot, is of the exact material and dimensions as those on board the famous ocean liner Titanic. The cast iron shell is intact and three furnaces remain in place. Calshot also retains the same type of swivel chairs as those in Titanic's second class dining saloon and the same Welin quadrant davits for her lifeboats.
2. What are the vessel's associational links for which there is no physical evidence? Associations with people or places. Off-ship research.
Calshot has strong local connections to the port of Southampton where she spent more than 60 years of her life. She was the largest tug tender built by John I Thornycroft at Woolston for the Southampton, Isle of Wight & South of England Royal Mail Steam Packet Company and subsequently spent many years working for the Red Funnel Fleet. She served some of the great ocean liners including the White Star liner Olympic, Cunard's famous flagship RMS Queen Mary, RMS Queen Elizabeth and the Mauritania. During this time, she carried world famous celebrities, film stars and politicians such as Sir Winston Churchill, Charlton Heston, Elizabeth Taylor, Cary Grant and Judy Garland. The Second World War saw her requisitioned by the Admiralty and appointed to tender the Home Fleet at anchor in Scapa Flow. She later took part in the D-Day preparations on the South Coast, towing sections of the famous Mulberry Harbour to France and acting as a non-assault headquarters ship for the Juno area of the invasion force. Calshot also has associations to Southern Ireland, operating out of Galway in the latter half of her working life first as a tender, then as a ferry and excursion vessel. Surviving documentary evidence includes an invitation
from the vessel launch day and historic photographs of her in service. Calshot is now a rare survivor of her type, the only similar UK vessels being the passenger tender Nomadic and the steam tug Daniel Adamson. She was included on the National Register of Historic Vessels in 2007 and awarded the status of being on the National Historic Fleet.
3. How does the vessel's shape or form combine and contribute to her function? Overall aesthetic impact of the vessel, her lines, material she was built from and her setting. Does she remain in her working environment?
Calshot's form and internal layout reflect her dual purpose function, operating both as a tug and a passenger tender. She is fitted with first and second class saloons, allowing her to carry 556 passengers down below, while her large timber-built fore and aft decks gave space for steerage passengers. Her riveted steel hull was strongly constructed to facilitate her work towing and manoeuvring liners in and out of port. Aesthetically, her robust external appearance is well suited to the practicalities of her role as a tug, but the quality of her interiors in terms of both design and craftsmanship are a true reflection of the class structure and society at the time of her build. Calshot currently remains afloat in Southampton Docks, the area where she spent the majority of her working life and to which she has the strongest links.
Author: Hannah Cunliffe, Director, National Historic Ships UK
March 2019
The port of Southampton had a requirement for tug/tenders to attend to liners anchored in Cowes Roads, and CALSHOT was completed in 1930 to fulfil this role in the fleet of the Southampton, Isle of Wight & South of England Royal Mail Steam Packet Company (or Red Funnel as it became known).
She was built by John I. Thornycroft & Co. Ltd, of Woolston, Southampton, launched on 4 November 1929, and fitted with triple-expansion steam engines, which were also built by Thornycroft. Principally used for local towing and tender duties, CALSHOT also served as a relief vessel on the Southampton to Ryde excursion service, and, on occasions, for salvage work in the Channel.
On 16 December 1940, she was requisitioned by the Admiralty and sent to Scapa Flow to tender the Home Fleet at anchorage. Two years later, she went to the Clyde tendering the QUEEN MARY and QUEEN ELIZABETH, amongst other liners, who were both on trooping duties.
In May 1944, she returned to the South coast and her home port of Southampton where she took part in the D-Day preparations. After an extensive refit, CALSHOT rejoined the Red Funnel fleet in June 1946 and continued in service until 1964, when replaced by a new motor tug/tender of the same name.
She was sold to Port & Liner Services (Ireland) Ltd, a subsidiary of the Holland America Line, converted to diesel and renamed GALWAY BAY. She was based at Galway for tender work to the liners MAASDAM and RYNDAM, and local excursion services.
By 1971, she was owned by Galway Ferries Ltd and used as a ferry between Galway and the Aran Islands, as well as excursions, until the end of the 1985 season. In 1986, she was bought by Southampton City Council to be the centrepiece of a proposed maritime museum. This scheme did not proceed, and she remained in Southampton Docks.
In 1997, the Tug Tender CALSHOT Trust was set up with the aim of restoring CALSHOT to her 1930s profile, including heightening her funnel. Limited work has been undertaken, but further progress is contingent on successful applicatoin for grants. Source: Paul Brown, Historic Ships The Survivors (Amberley, 2010), updated Mar 2011.
Sources
Norman J Brouwer, International Register of Historic Ships (Edition 2, 1993) pub: Anthony Nelson
W Paul Clegg, Ships Monthly (September, 1986, pp24-28) Tug Tenders in the UK
Classic Boat (Feb, 2004) Scrap threat for Calshot
Transport Digest (Summer Edition 103, 2011) Calshot Connections
The Times (22 June 2019), D-Day ship selling for £1 to save it from scrapyard
Key dates
1929

Built Southampton as a tug/tender

1929 – 1940

Principally used for local towing and tender duties, CALSHOT also served as a relief vessel on the Southampton to Ryde excursion service, and, on occasions, for salvage work in the Channel

1940

Requisitioned by the Admiralty and sent to Scapa Flow to tender the Home Fleet at anchorage

1942

Went to the Clyde tendering the QUEEN MARY and QUEEN ELIZABETH, amongst other liners, who were both on trooping duties

2011

April 2011 Calshot has moved to its new home in Trafalgar Dock, Southampton, to become the centre-piece for the planned Aeronautica Museum

1944

Returned to the South coast and her home port of Southampton where she took part in the D-Day preparations

1946

After an extensive refit, rejoined the Red Funnel fleet

1946-1964

Served with the Red Funnel Fleet

1964

Replaced by a new motor tug/tender of the same name Sold to Port & Liner Services (Ireland) Ltd, converted to diesel and renamed GALWAY BAY

1964-1971

Based at Galway for tender work to the liners MAASDAM and RYNDAM and local excursion services

1971

Sold to Galway Ferries Ltd and used as a ferry between Galway and the Aran Islands, as well as excursions, until the end of the 1985 season

1986

Bought by Southampton City Council to be the centerpiece of a proposed maritime museum This scheme did not proceed, and she remained in Southampton Docks

1977

The Tug Tender Calshot Trust was set up with the aim of restoring CALSHOT to her 1930s profile, including heightening her funnel
Grants
April 2019

A Sustainability Grant of £1000 for supporting works was made from the Strategic Development Fund of National Historic Ships

October 2010

A grant of £40,000 has been secured from the City of Sunderland S.I.P (Single Innovation Plan) for renovations. Source: current owners

April 2007 - March 2007

A Sustainability Grant of £1000 for help with the restoration work was made from the Strategic Development Fund of National Historic Ships

2006/07

The Heritage Lottery Fund awarded £50,000 for developing the main application for restoration, conservation and development
More like this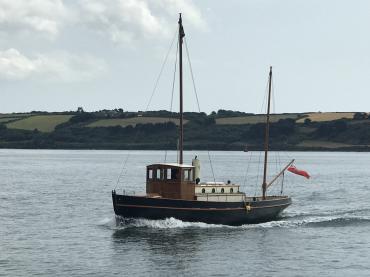 Registered, built 1956 by Curtis & Pape, Looe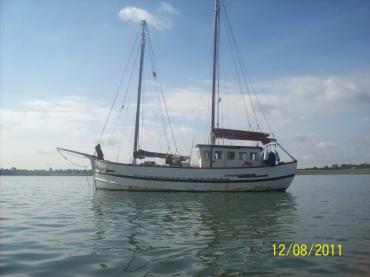 Registered, built 1952 by Weatherhead, William & Son, Cockenzie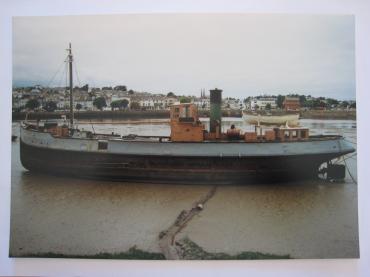 Archived, built 1934 by Dunston, Richard, Thorne