Details
Vessel type
Weaver Packet
Available for excursions
Yes
Construction
Builder
Yarwood, W J & Sons Ltd, Northwich
Primary engine type
Steam
History
S.S. Davenham Is a welded and riveted steel steam barge built by W J Yarwood of Northwich in 1944 and commissioned in 1946 for Imperial Chemical Industries Ltd, Alkali Division. Davenham was decommissioned in the 1960s and her two sister ships were scrapped but fortunately Davenham was saved and had her steam engine replaced with a Gardner diesel engine. The Gardner 8-cylinder diesel, rating approx. 180 hp, was installed in the 1970s. The original steam engine, a 6 ¼ ton, 2-cylinder compound marine steam engine also made by Yarwoods, is now in the Ellesmere Port Boat Museum.
This engine once powered the River Weaver Packet Boat Davenham on her regular travels, bringing soda ash from the Winnington Works at Northwich to Birkenhead or Liverpool for chemical company ICI. Davenham's journey used to take her down the Weaver Navigation, onto the Manchester Ship Canal and then to the River Mersey. The ship has been transformed from a rusting hulk into a floating cinema boasting high specification cinematic technology and a unique, comfortable interior. The refurbishment has been conducted by a team of highly skilled and dedicated craftsman over 12-month period.
Update, May 2020: Vessel reported under new ownership and moved to new location in the Hebrides, Scotland.
Key dates
Built by Yarwoods at Northwich for ICI at Liverpool
More like this
Registered, built 1948 by Yarwood, W J & Sons Ltd, Northwich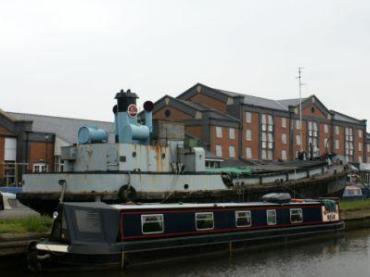 Registered, built 1948 by Yarwood, W J & Sons Ltd, Northwich
Archived, built 1948 by Yarwood, W J & Sons Ltd, Northwich